What is FASTRAC© Business Launch? FASTRAC© is a strategic system that we created to get your business, product or promotion launched and running in the shortest amount of time possible. Traditionally, launching a new business, creating marketing visuals such as websites, print and web ads, corporate identities, sales collateral, content creation, brand imagery and social network plans can take months and months of endless revisions, planning, scheduling and delays. FASTRAC© is a totally focused immersion into your project in an environment with a specifically designed team of experts that will not lend itself to distractions or delay. It is a well planned, detail-oriented and results driven strategic approach to completing your project. How do we do this? Simple… we start by identifying the specific outcome desired through a short coaching process. This coaching session is one of the most important components to the process. It allows us to plan, discuss and weed out any potential issues that would create a problem in the workflow or detrimental to developing the right image and marketing strategy. We then create a detail-oriented  strategic plan followed by compiling and scheduling the necessary team members to dedicate specific modules of time. We perform this several different ways depending on budget and logistics.  We can bring you to our team or we can bring the team to you! Depending on your specific needs we customize a strategic attack plan to give you the quickest most cost effective outcome possible. All arrangements for creative, copyrighting, photography, programming, coaching, legal, transportation etc. are coordinated and executed in a highly precision manner. The result will be your business, product or promotion will be created and launched in the shortest and most productive way. Why take this approach?? With todays fast paced business environment where competition and market share change almost daily this approach has proven to be the smartest way to take on todays business world. Getting your product, service or image out in the marketplace as fast as possible gives you a competitive edge. Gone are the days of having the luxury to painstakingly mold your approach over months or even years of development. The world is moving at a pace that we can either keep up or be left behind.
TODAYs Case Study: Company: Venus Weight Loss
CEO: Tarika Lovegarden
Location: Mill Valley, California
Strategic Goal: Take an entrepreneurial idea of how to change women's lives around weight loss in a whole new way.
Task requirements: Brand Corporate identity design, marketing website, sales and marketing business collateral, photography, programming, voiceovers, content creation / copywriting.
Northeast Venture Group Team Members: David Alan Kogut, Barry Dougherty, John Mahoney, Mike Verdi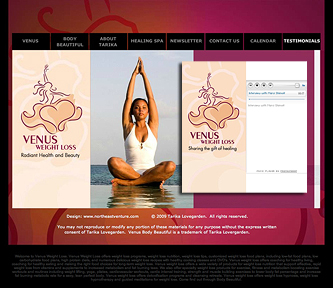 This project had us fly the owner and creator of Venus Weight-loss to the New York Area from Mill Valley California. We arranged accommodations and transportation for the stay. Prior to leaving we made sure all the necessary paperwork and materials for beginning the business development process were available.The approach consisted of a photo session with Ms.Lovegarden. Those photos were selected and retouched while the main corporate identity designs were being developed for approval. Colors and concepts were discussed in the coaching session along with other details on visuals. Content was being written for her approval and incorporated into her website design. Business cards, letterhead, contracts, giveaways and handouts were all in process of development at the same time. Business and marketing plans were being developed with her undistracted input. Being that she was in a totally immersed environment she was able to stay focused and make quick, highly informed decisions on every aspect for the business. Within a very short stay she was able to go back to California with her business launched! We celebrated with a evening in Manhattan at a celebration dinner and Broadway show. RESULT: A business fully launched in the most cost effective way with all marketing pieces in place in time for promotional opportunities in the California area.
Call

David Alan Kogut

at 877-583-6887 ext 80 to find out how we can tailor a FASTRAC approach to your needs